With almost 30 years experience of PET and PET-CT scanning and now also PET-MR, the King's College London & Guy's and St Thomas' PET Centre provides PET services for referred patients at a local and national level and performs clinically related research. We scan over 7000 patients per year. Enhancements and refurbishments over the last five years let us be there for our patients at every step of the experience and make it as smooth and comfortable as possible.
Our PET Centre is a centre of excellence with an international reputation for delivering the best patient care, highest quality academic research, and training. We strive to make a difference for the patients we scan, and via the research we perform.
Our mission is to perform basic, translational and applied clinical PET research across all specialties including oncology, neurology/psychiatry, and cardiology. We welcome work with external collaborators, including industry. We aim to obtain the best possible quality and reliability for all studies we perform.
The Centre develops exciting PET methodology (e.g. PET-MR), and also performs cutting-edge research into innovative radiochemistry using our in-house cyclotron and our wide range of multidisciplinary expertise.
News Highlights

PET Centre staff take home awards and prizes at the BNMS Spring Meeting 2019
Several members of staff and researchers from the PET Centre and the School of Biomedical Engineering and Imaging Sciences won awards and prizes at this year's BNMS Spring Meeting:
Professor Sally Barrington was added to the BNMS Roll of Honour in recognition of her contributions, both nationally and internationally, to the speciality of Nuclear Medicine.
The PET Centre's submission to the Innovative Team of the Year Award came joint second place.
Madeleine Iafrate and colleagues won the Radiopharmacy Oral Prize for a presentation entitled "Preliminary evaluation of chelating agents for biomolecular labelling with the long-lived PET isotope manganese-52."
Sze Chuah and colleagues won the Student Prize for a presentation entitled "Bayesian penalised likelihood ("Q-clear") reconstruction of 68Ga-THP-PSMA PET/CT in prostate cancer: A comparison with standard image reconstruction methods"
The PET Centre won the conference Twitter prize.
---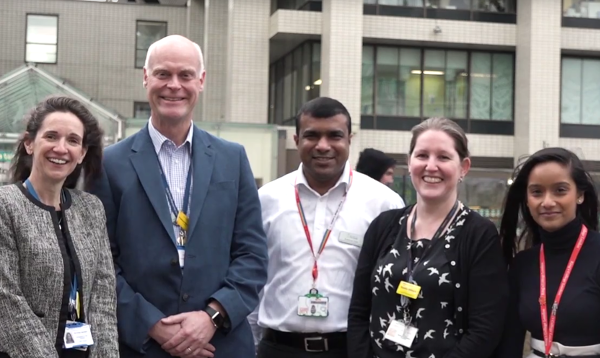 The PET Centre makes final three for the BNMS Innovative Team of the Year Award 2019
A team from the PET Centre are finalists for the British Nuclear Medicine Society's Innovative Team of the Year Award. The award is intended to celebrate teams that have used innovation and creativity to improve their service. The PET Centre entry is for the introduction of a new service which uses a tracer called 68Ga-THP-PSMA to image prostate cancer.
Click here to watch the video describing the new service.